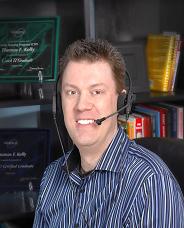 Tom Kelly, PCC
Personal and Business Coach
Wondering How Coaching Can Help You?
Are you a sales professional, entrepreneur, or small business owner that's looking to take your business to the next level? Are you a professional that is in career transition and looking to find a position that you love where you can use your skills and talents on a daily basis? Are you looking for a partner that can provide you with the tools, support, structure, and accountability to reach your goals quickly and effectively? If you answered yes to any of these questions, then perhaps coaching will work for you.

Through weekly coaching sessions, we will work together to gain a clear understanding of your goals and objectives, build a solid plan of attack, and execute that plan on a consistent basis. The end result is that you will reach your goals and objectives quickly and effectively.

As your coach, my goal is first to help you solve your problems, and second to help you create more problems! At then end of the day, you will reach for more, and achieve more, than you ever thought possible.

If this sounds interesting to you, please give me a call or send me an e-mail and we can set up a time to get to know each other. I'm looking forward to hearing from you!
Call or e-mail me to schedule your complimentary session today!
tomkelly@potentialinmotion.com
(630) 964-0112

__________________________
Featured Coach Details
Coaching Since: 2002
Certification: MCC, CUGC
Fee: $425 - $500 per month
Website: www.businesscoachchicago.com